Welcome… to On-SCARE-io!!!
Ontario is home to a wealth of game studios of all sizes, which rival any region on the planet in terms of making popular and innovative games. With Halloween fast approaching, what better time than to highlight the creepy, the ghoulish, and the macabre games that Ontario game developers have unleashed upon the world? 
Many of these games are available right now on Steam, Xbox, PlayStation, Nintendo Switch, and mobile devices, so whether you're planning a spooky pre-Halloween weekend or looking for something to do indoors while you keep the lights out to hide from trick-or-treaters, do enjoy this list of horror-themed games compiled by The Lodgge.
And whatever you do, DON'T PLAY ALONE… if the game is multiplayer…
Here are 10 horror and spooky-themed games made right here in Ontario:
Journey into a dark, mysterious, and ever-shifting underworld in this roguelike action adventure from Toronto's Capybara Games, where pulse-pounding skill-based combat is the only way to survive. You play as the uniquely vulnerable Wanderer, who must master a variety of skills and weapons to navigate the shadowy labyrinth and outlast the various monstrosities lurking in the darkness. Featuring a haunting synth soundtrack by Ontario singer-songwriting legend Jim Guthrie, Below will have you desperate to make your way back to the surface light… if you last long enough.
Our first of two chilling entries from BancyCo, Worse Than Death features the most terrifying setting of all – your high school reunion! This action-adventure horror game sees players fleeing in terror, solving devious puzzles, and uncovering the terrible secrets of their wretched hometown. Named "Best Indie Game of 2019" by Rue Morgue Magazine, this story will have you hooked until the very end!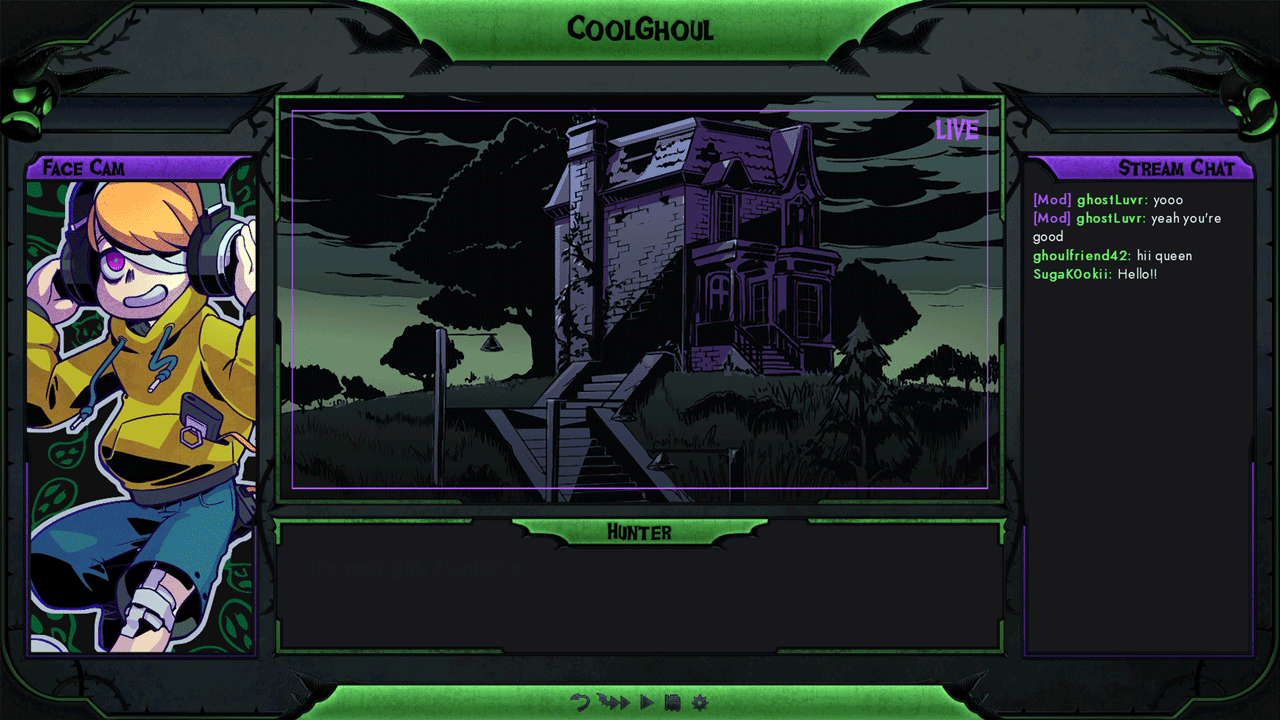 Don't go inside the long-abandoned house on the edge of town… but if you do, be sure to livestream the whole thing! This horror/comedy from Toronto-based Lightning Rod Games sees you play as an intrepid ghost hunter/ live streamer/ average high schooler looking to make a name for themselves conducting a paranormal investigation for your adoring online audience. LiveScream is visual novel with point-and-click elements featuring a customizable protagonist, reactive audience, and a price point that can't be beat! Remember: don't cross the screams!
After surviving a subway crash you must find a way back to the surface, as the realization dawns that there is more to this disaster than you ever feared! Lurking shadows follow your every move as thrill-seekers of all ages use their wits to defeat monsters and solve puzzles. Supporting both Non-VR and VR experiences, Bring To Light – from Kitchener and Halifax-based studio Red Meat Games – scares on the Oculus Rift have to be seen to be believed. Plus, with a supported heartrate device, the game can use biometric heart rate data to change the experience in real time!
No, this list isn't all thrills and chills and blood and gore. Spooky Halloween-themed things can also be incredibly cute and charming – and such is the case with Flying Neko Delivery, a game hilariously described by its creators as a "cat witch life simulator". Developed by Toronto's Fractal Phase with support from Thousand Stars Studio, the game puts you in the role of a feline witch who flies around on an upgradeable broomstick foraging for witchy ingredients and delivering packages to her friends and neighbours. What more could you ask for? Well, Flying Neko Delivery also features a wonderful score courtesy of A Short Hike composer Mark Sparling.
I know what you're thinking – this game was developed in Montreal, not Ontario… BUT, Behaviour Interactive just opened a new studio in Toronto earlier this year, so what better time than to shout out a major staple of the horror game genre. Dead By Daylight is a multiplayer (4v1) bloodfest where one player is the savage Killer, while the other four attempt to survive. The game features icons of horror, from Halloween's Michael Myers to Texas Chainsaw Massacre's Leatherface. Be sure to check out the current "Haunted By Daylight" in-game event, just in time for All Hallow's Eve.
Skulls are a pretty standard Halloween decoration, but have you ever played as one? Meet Skully, who has been bestowed a second chance at life after washing up on an enchanted isle. Players will hop, skip, and roll through a diverse island habitat teeming with obstacles and puzzles in this unique platformer from Toronto's Finish Line Games. Featuring fully voiced dialogue and cutscenes, what better time to explore the compelling story and charming world of Skully!
Halloween is more than just maniacs and monsters – it's costumes, and Nobody Saves The World lets you dress up as a ghost, dragon, slug, and many more! From Toronto's Drinkbox Studios – the creators of Guacamelee – this new take on the action RPG has players transform their way to glory as they discover numerous distinct forms, mix-and-match their abilities, and clear evolving dungeons, all while maybe actually SAVING THE WORLD!?"
It's the ultimate Halloween party, as a host of colourfully costumed characters compete in a dragon-feeding (and friendship ruining) arena party-platfomer from GTA-based Mega Power Games. In each round players compete to feed the monstrous Dragon Queen delicious treats, but then trick each other as they steal powers and abilities from the leading scorer! Can you adapt fast enough to survive, or perish in the dragon's pit?
Last but not least is the creepy game that started it all for BancyCo, 2012's Home, a unique horror adventure set in a beautifully-realized pixel world. While the old school graphics may lull you into nostalgia, beware of the constantly shifting perspectives and unsettling twists in this singular game The Verge called "A sophisticated, horrifying narrative experiment."
This list of thrilling, chilling made in Ontario video games barely scratches the surface of what game developers across the province have to offer. Spooky or not, the next time you sit down to play a game there's a very good chance it was created by the talented and hardworking studios of Ontario!
Will Perkins
Principal & Creative Director at CONTINUE